Artista La Répétition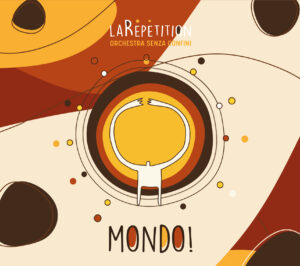 Titolo MONDO
Label Finisterre
Catalogo FT 80
Genere tradizionale/world music
www.finisterre.it
in breve
"Mondo" – il primo disco del progetto internazionale "La Répétition"
"Il progetto veicola valori di inclusione e intercultura centrali in questo periodo storico, grazie alla musica, che abbatte di fatto, ogni confine."
Nato nel Marzo del 2017, il progetto La Répétition ha come obiettivo iniziale l'incontro fra la musica tradizionale del West Africa e il sound del nuovo Salento, crocevia di popoli. Il progetto musicale diretto da Claudio Prima e Giovanni Martella unisce musicisti italiani e africani nella creazione di un repertorio inedito. Il progetto prende forma durante delle session aperte tenutesi a Lecce, presso le Manifatture Knos e successivamente in alcuni workshop con esponenti internazionali della musica WestAfricana.
Il risultato di questo processo è un'orchestra multietnica che fonde sonorità westafricane, mediterranee e salentine in un linguaggio moderno e originale, costituito da una potente sezione ritmica di djembe, ngoma, dundun, il cuore pulsante del progetto, che insieme a balafon e kamalé ngonì conserva il contatto con la tradizione africana, da un'ampia sezione fiati, chitarra elettrica e basso e da oud, violino e organetto che tracciano un ponte ideale con Mediterraneo e Salento. Il Salento, da sempre terra di confine dove numerose culture si sono vicendevolmente fecondate, ritorna ad essere territorio di indagine alla scoperta dei tratti comuni fra i popoli che oggi lo abitano.
Il repertorio dell'orchestra è composto da brani tradizionali del Senegal, del Burkina Faso, della Nigeria e del Mali, insieme a nuove composizioni nate nel progetto Tukrè che da 5 anni ricerca le commistioni fra musica Salentina e musica africana.
English:
This project wishes to promote inclusion and intercultural confrontation, values of great importance during these historic times we are living in; this is made possible by music, which effectively travels beyond any physical and cultural border.
Since March 2017, the La Repetitiòn orchestra has focused on the meeting between West African traditional music and the sounds of the cultural melting pot that is the new Salento.
Directed by Claudio Prima and Giovanni Martella, this musical project unites Italians and Africans in the making of an original repertoire and shapes during open sessions in the city of Lecce, at the Manifatture Knos, as well as during workshops with international representatives of West African music.
The result is a multiethnic orchestra that fuses West African, Mediterranean and Salento sounds in a modern and fresh way. A powerful rhythmic section made by djembe, ngoma and dundun constitutes the beating heart of the project, the balafon and kamalé ngonì recall the African tradition and the large brass section, electric guitar, bass, oud, violin and organetto form the ideal connection with the Mediterranean and Salento traditions. Salento, which has historically always been a borderland and melting pot, becomes again a place where to discover the common traits that the different communities living in it share.
The orchestra's repertoire includes traditional pieces from Senegal, Burkina Faso, Nigeria and Mali, as well as new compositions born from the Tukrè project, which has now been exploring the fusions between African and Salento music for five years.